Welcome, welcome, one and all to the Almighty Chicken Feed's website!
Primarily, this site is all about the footy tipping competition ... which is underway for season 2009!
SIMPSONS QUOTES OF THE MONTH:

Ralph: Hi Super Nintendo Chalmers!
Bart (spelling 'Impervious' in a spelling test): I . . . M . . . P . . .
Nelson: Bart is pee!
Ralph: I made Bart in my pants!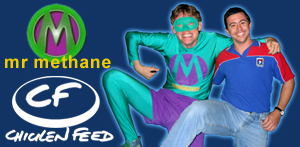 3-9-2005: THE DAY THE ALMIGHTY CHICKEN FEED MET MR METHANE
THE NIGHT THE AIR TURNED FOWL!
About this site ...
This site has been about since 2003. It's primary function is to be the place the Footy Tippers come to view their progress and to see how their competitors are doing. It is unknown how many people actually use this site or view it at all, but it's here regardless. This chicken is a cocky one, so doesn't give a cluck whether people use it or not - it will press on no matter what.
Coming attractions ...
The 2009 ALMIGHTY CHICKEN FEED TIPPING COMP has begun. It's still not 100% up to date, but it's pretty close! Other than the 2009 tipping page, I don't quite know what exactly this site will hold in the future, but whatever these attractions are, keep an eye out for them, but always keep one eye on Chicken Feed ... he does to you!
This site was last updated on Friday 5th June, 2009.